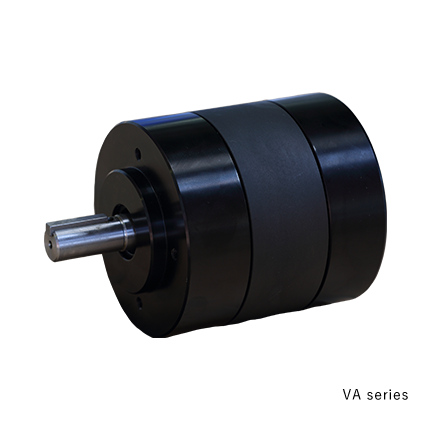 SPECIALITY
Enable to use in the "HAZARDOUS AREA" such as explosive, high-temprature, humid, the place where is unusable of electricity.
Air motor automatically stops or slow down for avoiding overload.
Smaller and lighter weight compared with electrical non explosion type motor of the same output.
Reliable for emergency use especially when black out.
Because our Air motor is Made in Japan only, its value is reliability to assured quality.
VA

 series / Rotary vane type (One way rotation)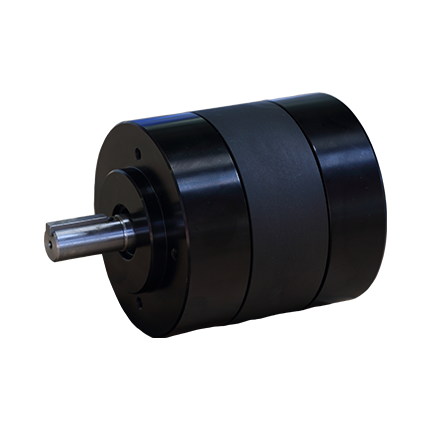 MODEL CONSTITUION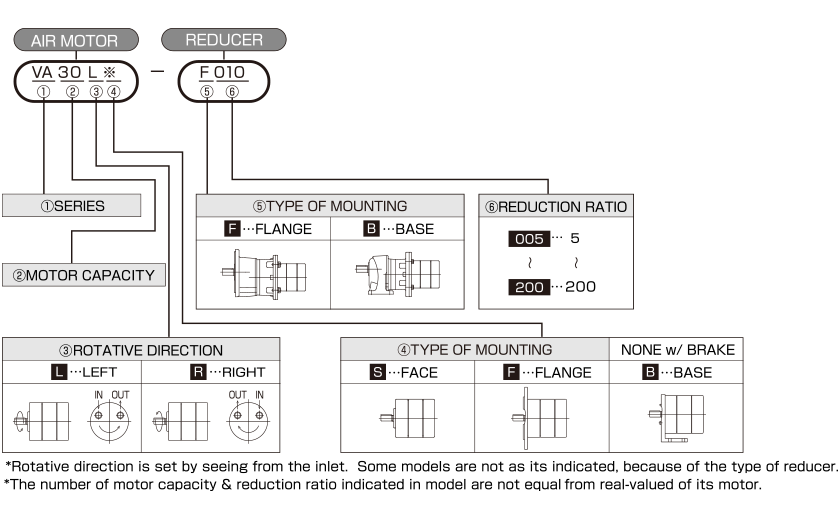 SPECIFICATION
※ AIR PRESSURE @ 0.5MPa
| | | | | |
| --- | --- | --- | --- | --- |
| MODEL | OUTPUT | ROATATING SPEED | TORQUE | AIR COMSUMPTION |
| | kw | rpm | N-m | ㎥/min(nor) |
| VA30 | 0.23 | 1800 | 1.2 | 0.40 |
| VA50 | 0.38 | 1800 | 2.0 | 0.68 |
| VA100 | 0.75 | 1800 | 4.0 | 1.30 |
VF

 series / Rotary vane type (reversible)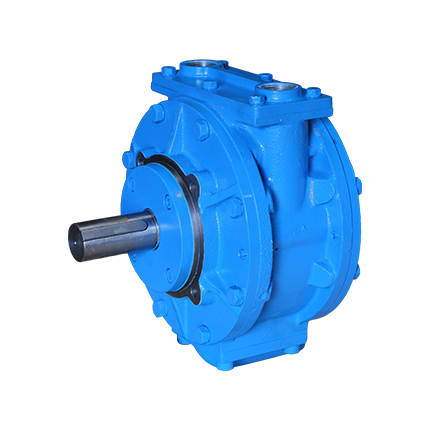 MODEL CONSTITUION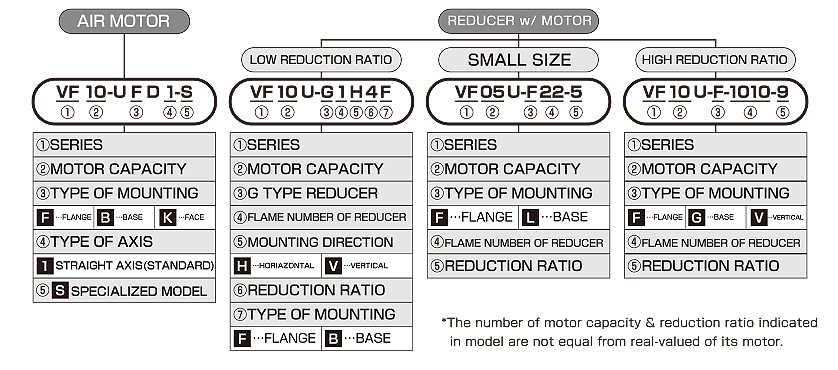 SPECIFICATION
※ AIR PRESSURE @ 0.5MPa
| | | | | |
| --- | --- | --- | --- | --- |
| MODEL | OUTPUT | ROATATING SPEED | TORQUE | AIR COMSUMPTION |
| | kw | rpm | N-m | ㎥/min(nor) |
| VFR03 | 0.24 | 3200 | 0.73 | 0.38 |
| VF05 | 0.76 | 2800 | 2.60 | 1.1 |
| VF10 | 0.91 | 2600 | 3.35 | 1.5 |
| VF20 | 1.71 | 2300 | 7.10 | 2.3 |
| VF30 | 2.09 | 2000 | 10.0 | 2.6 |
| VF50 | 4.24 | 1800 | 22.5 | 5.4 |
| VF75 | 6.60 | 1400 | 45.0 | 9.0 |
DM

 series / Radial piston type (reversible)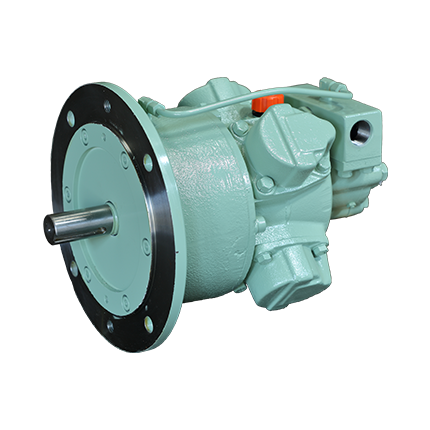 MODEL CONSTITUION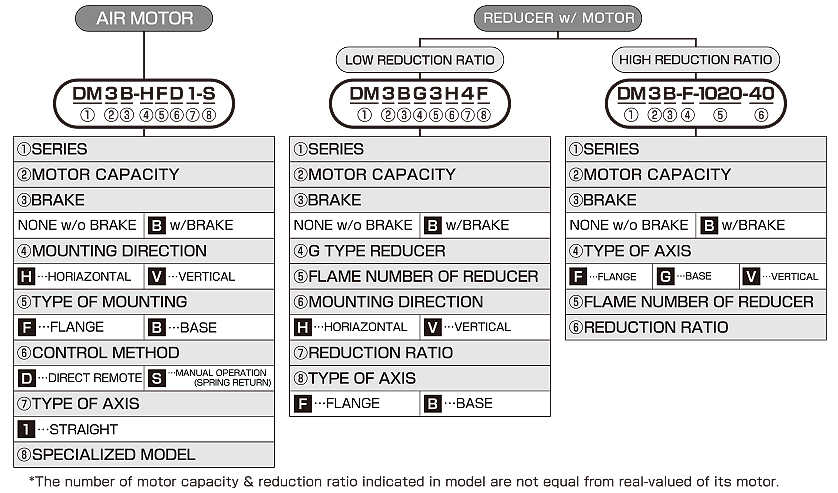 仕様
※ AIR PRESSURE @ 0.5MPa
| | | | | |
| --- | --- | --- | --- | --- |
| MODEL | OUTPUT | ROATATING SPEED | TORQUE | AIR COMSUMPTION |
| | kw | rpm | N-m | ㎥/min(nor) |
| DM1 | 0.64 | 1300 | 4.7 | 0.7 |
| DM3 | 1.4 | 1250 | 10.9 | 1.7 |
| DM9 | 3.1 | 1000 | 30.0 | 3.4 |
| DM220 | 6.0 | 645 | 89.0 | 4.8 |
| DM36 | 9.7 | 630 | 148.0 | 7.5 |
| DM45 | 14.2 | 800 | 170.0 | 14.0 |
AGM

 series / Gear turbine type (reversible)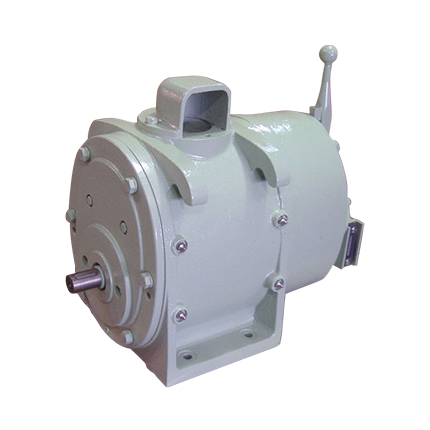 MODEL CONSTITUION

SPECIFICATION
※ AIR PRESSURE @ 0.5MPa
| | | | | |
| --- | --- | --- | --- | --- |
| MODEL | OUTPUT | ROATATING SPEED | TORQUE | AIR COMSUMPTION |
| | kw | rpm | N-m | ㎥/min(nor) |
| AGM10 | 7.5 | 1500 | 48 | 8.5 |
| AGM15 | 11.6 | 1500 | 75 | 13.5 |
| AGM23 | 18.8 | 1500 | 119 | 21.0 |
| AGM40 | 31.5 | 1500 | 200 | 35.0 |